The TSP Gear Shop Now Gives 10% to MSB Members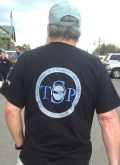 If you have been holding back on getting some cool Survival Podcast SWAG now may be the time you have been waiting for.  We have wanted to offer a 10% discount in the Gear Shop for a long time for all MSB Members but due to the way PayPal works (or more accurately doesn't work) it required a shopping cart upgrade.
Well as part of the redesign Tiffany and Rich have upgraded the stores software and shopping cart and now offering a discount code is easy to do.  So from today forward all TSP Gear Shop items are 10% off for all MSB Members.  The discount code is now listed on the "Benefits" section of the Members Brigade.