Texas Slim on Bitcoin & The Beef Initiative – Epi-3131
Podcast: Play in new window | Download (Duration: 2:05:13 — 28.7MB)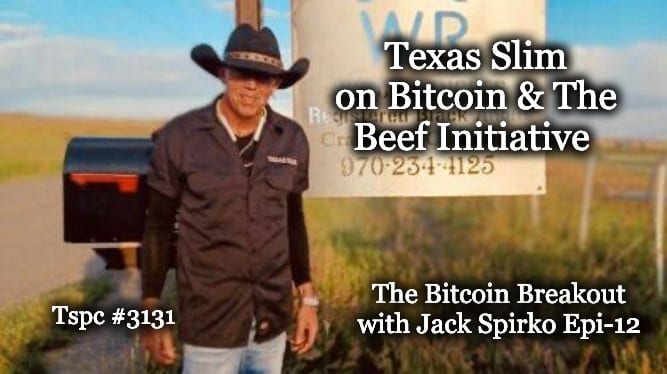 Texas Slim is a 7th generational Texan on a mission to improve the health and security of our local communities. To do so he is expanding market access to quality animal protein by building decentralized networks of value-aligned ranchers, processors, distributors, butchers, grocers, restaurants, and consumers.
Slim is focused on providing tools and access to the tools necessary, including bitcoin, to form more secure localized food supply chains.
Slim has been traveling around the country for 3 years engaged in performing boots on the ground relationship building. In doing so he is building networks with like minded individuals and communities who want and are creating a new consumer demand for pure food and peer to peer transactional tools to help give the North American Rancher/Producer a new revenue stream and pillar of strength that gives them a voice that they do not have or is being silenced.
Resources for today's show
Texas Slim's Links
Sponsors of the Day…
Video Version of Today's Show
Remember to comment, chime in and tell us your thoughts, this podcast is one man's opinion, not a lecture or sermon.
Want Every Episode of TSP Ever Produced?
Remember in addition to discounts to over 40 vendors who supply stuff you are likely buying anyway, tons of free ebooks and video content, MSB Members also get every edition of The Survival Podcast ever produced in convenient zip files in blocks of 24. More info on the MSB can be found here.