Guy Swann, Brian Harrington & Jack Spirko on the Layer 3 Revolution – Epi-3136
Podcast: Play in new window | Download (Duration: 2:31:32 — 34.7MB)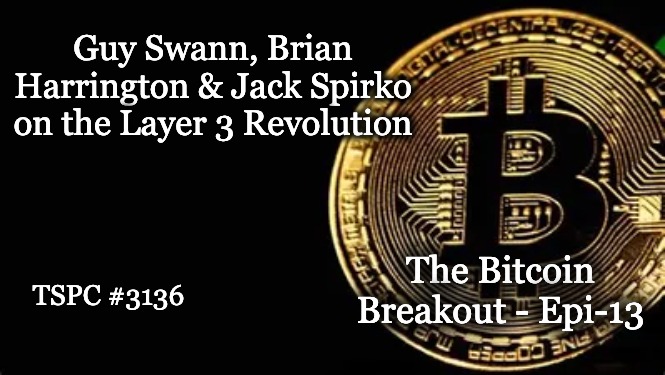 The lightning network took a long time to really develop into what we were waiting for.  In fact it is still maturing but it is now to the point where we are building layer three apps on top of Lightning's layer two.  That is a fancy way of saying, we are using bitcoin to monetize what we commonly call "smart phone apps".
Consider apps like Fountain.fm, Breez, etc that monetize podcasting.  Users earn sats, send sats and communicate with hosts.  But this is just the beginning there are already apps like Geyser for example that are creating ways to do crowd funding with leveraging the Lightning Network.
So what is next?  That is what I have these two amazing guys on to discuss today.  The truth though is, there is no reason we can't or that we won't monetize pretty much every app out there.  What will that look like though?  Tune in today as we mull over that very question.
Resources for today's show
Brian's Links
Guy's Links
Sponsors of the Day
Video Version of Today's Show
Remember to comment, chime in and tell us your thoughts, this podcast is one man's opinion, not a lecture or sermon.
Want Every Episode of TSP Ever Produced?
Remember in addition to discounts to over 40 vendors who supply stuff you are likely buying anyway, tons of free ebooks and video content, MSB Members also get every edition of The Survival Podcast ever produced in convenient zip files in blocks of 24. More info on the MSB can be found here.