Some MSB Updates – Sign Up With Silver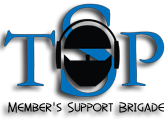 A few things for MSB and perspective MSB Members.
1.  ShelfReliance.com had been doing 7% off all purchases.  The code expired at the end of the year and they now have a new and better deal for the MSB.  There are now two codes one for shelving and that gets you 10% off and the other code for Thrive Food Items which gets your 5% off.   If you want to order shelving and food in one order it will be best to call the order in and give both codes to the customer service rep that takes your order because the online system will only let you use one code.
2.  Backwoods Home's code expired, I do have an email in to Dave Duffy to get it renewed.  I expect that they will remain a supporter and renew the offer or come up with a new one.
3.  There was also an issue with the ordering link for Common Sense Prep for 15% off all Paladin Press DVDs and Books, the issue is now corrected.
Lastly I have been taking silver for MSB for quite a while but I have now made the silver option easier to understand and have standardized it.    Those wanting to pay with silver can now use the new order form which has two options for paying with silver.  I am now taking either of the following for each year of MSB you want to order.
1.  One Ounce of any .999 pure silver.  These can be bullion rounds, American Eagles, AOCS silver rounds, bars, you name it.  As long as it is pure silver it will be accepted at one ounce per year.  You can order one year at a time or prepay several at any quantity you want to.
or
2.  $1.50 Cents of pre 64 US Silver coin, I will take dimes, quarters, half dollars or silver dollars for this.  This is just over one ounce of silver melt value.
I decided to go to one ounce flat on silver because silver is at an all time high, so while I am taking AOCS coins as always I am not putting a premium on them.  In any event this is a significant discount.    With silver right at 30 dollars an ounce this is effectively a 20 dollar discount on MSB for paying in silver.