SaveOurSkills.com – Relaunched and Rocking!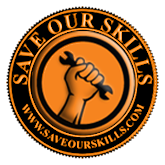 About one month ago I selected Nick Ladieu as a partner for SaveOurSkills.com and turned the reigns over to him for that site.   The purpose of SaveOurSkills.com is to highly the true "how to" of America's traditional skill sets from the ancient to the modern.  To ensure American remains a nation where people actually know how to do things and take care of themselves.
Since taking over Nick has really do a lot with the site, he has started a podcast, built up a community on Facebook and Twitter, found some great contributors, etc.   So get on over there, join his update list and support the efforts he is making with the site.
SaveOurSkills.com is the first satellite website of The Survival Podcast community, it is designed to both be a stand alone community and to introduce TSP and Preparedness to a broader audience.   Also if you have any videos or want to write for SaveOurSkills, get in touch with Nick about that, we are always looking for great new content.