New Benefit for the Members Brigade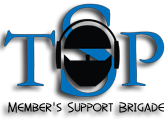 Well I got out from under a big backlog and was able to do some cleaning in the Members Brigade today and add a new benefit.
First I am happy to announce that KnifeKits.com is now giving all MSB members 5% off of all purchases.  KinfeKits.com came on as a sponsor this summer and has now agreed to support the show for a full additional year and offer a discount to MSB members as well.  For more info visit KnifeKits.com
Second the zip files of the archived episodes of TSP have been updated.  One link had a bug in it that I fixed and the zip file archive is now full all the way up to episode 499.
Third make sure if you are MSB you check out the bottom of the "Benefits" page because that is where most of the free eBooks are.