Great Post from ITS Tactical for Veteran's Day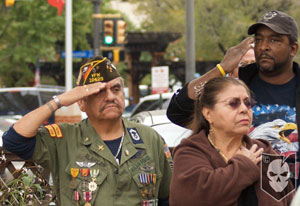 My good friend Bryan Black at ITS Tactical put out a great post today for Veteran's Day called "5 Simple Ways to Thank a Veteran Today".  Please drop by and give it a read and leave a comment if you have a moment.
I particularly like the suggestion to buy them lunch or dinner.  Recently I tried to buy a solider an upgrade on an airline (Airtran) and was delighted to find that they gave him the upgrade for free anyway.  Big props to the gal at Airtran that made that happen.
The point is little things like the stuff in Bryan's post mean a lot.  While your are reading his post give a thanks to Bryan in the comments at his blog.  Bryan is a disabled Navy Vet who trained with naval special warfare.  He went to school for SEALs and completed hell week which I know is one if his proudest accomplishments.  An injury prevented him from completing training but he is certainly a warrior to the core.
He does a lot for veterans at his site all the time and deserves recognition for his contribution to the military community as a whole.  Hope you enjoy his post and more importantly I hope you act on it when you get the chance.   Remember Veteran's day is a good day to thank a vet, however, it certainly should not be the only day that we do so.
Click Here to Read 5 Simple Ways to
Thank a Veteran at ITS Tactical