Geocachers Check out the New Addition to the TSP Gear Shop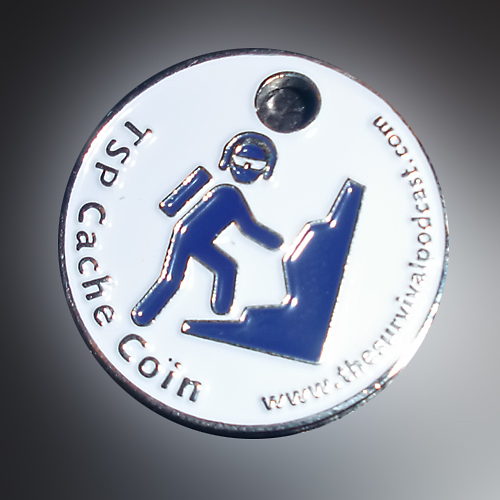 We have another cool addition to the gear shop, specifically for the large number of GeoCashers in the TSP community.  Geo Caching is a fun outdoor sport that gets you out into the woods, teaches you navigation skills and is just plain fun.  You can learn more about Geo Caching at www.geochaching.com
For those into the activity we now have TSP branded "path tags".  These are roughly the size of a quarter, and have a serial number on the back (the serial number is the same on all TSP path tags). They are meant to be used very specifically as geocaching coins that can be stashed in caches all over the world for geocaching purposes.  Of course if you just want a few because after all they are cool, you are welcome to get a few as well.
We've had more requests for these specific coins than for any other one item that we carry in the store (evidently the cache-fu is strong with the TSP crowd), so we felt that we had to get in on the fun and carry some path tags specifically for you preppers! We can't wait to hear where you find our path-tags, so feel free to drop us a note and let us know if you've cached, or found them on the road!
They are very affordable at only 3 dollars a coin and that includes free shipping.  Just realize if you buy the tags and other items of course there will be shipping charges for the other items.  We also have no minimum order on the tags but heck at least buy a few if you are going to place an order at only 3 bucks everyone should have a few of these just to share the TSP message with.