Gary Vaynerchuk is Coming, An MSB Discount and More
Just a few announcements about some things that are up and coming or currently going on at TSP.
1.  The long awaited Gary Vaynerchuk interview will be conducted on Tuesday afternoon (March 1st) and will air on Wednesday morning.  Gary is honestly world famous as a master of marketing and building businesses in the modern world.  I am bringing Gary on to talk about building both a business and a "personal brand" as a way to create greater self sufficiency in today's world.  Make no mistake even if you never want to own a business "personal brand", even for employees, will grow in importance as technology continues to evolve.
The first time I heard about Gary a business colleague sent me his presentation from the Web 2.0 Expo in NY from a few years back, he blew me away.  Warning Gary uses what we call "adult language" and plenty of it, even compared to me.  Here is his presentation, this almost made me walk out of my own office and quit working for a company I owned the first time I saw it.   Gary Vaynerchuk at the Web 2.0 Expo.  Further warning I do not plan to ask Gary to censor his speech in any way during his interview, translation next Tuesday's episode will be "explicit".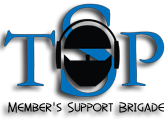 2.  Right now I am running a special for the Members Brigade.  From now until Feb 28th you can get your first year of the MSB for only 30 dollars, that is a discount of 20 dollars on your first year.  Keep in mind that a few benefits alone exceed the value of the MSB for instance you get a free lifetime membership to Safecastle Royal's discount buyers club (a 29 dollar value) and a free Preferred Membership from Western Botanicals (a 50 dollar value).  So those two benefits alone are worth 79 dollars.
Keep in mind there are over 25 total discounts available, along with over 100 dollars worth of free eBooks and some other great benefits.  To get this discount just visit the members page and use the discount code "positive" between now and Feb 28 and get your first year for only 30 dollars.
3.  On March 7th Steve Palmer president of ShelfReliance.com will be appearing as a guest on TSP to discuss the innovative storage systems offered by ShelfReliance.com along with prepping in general.  ShelfReliance is the source of "The Food Rotation System", or FRS, which is designed with the idea that you store what you eat and eat what you store. By keeping familiar items on hand, you're better able use your food storage should you have to rely on it in an emergency. The FRS also saves you money because you are no longer throwing out old food storage that has expired.
We will be discussing food storage, current economic concerns and other interesting topics with Steve and it should be a great interview.
4.  Many of you have asked about the status of our move (AKA the big bug out) to Arkansas.  So I figured I would update everyone here.  About 25% of our "stuff" has been moved to the Arkansas homestead and I have even been up there sowing cover crops to help me get some production out of my first year at the new place full time.  We have another 25% of our stuff that we are donating and giving away as I type this.
We have paint and carpet bids on the Arlington home and have selected the folks to do that work.  We should be all but moved out by March 15 with a target to be fully in Arkansas and the home listed for sale absolutely no later than March 31.  The joy I feel in this, despite the work left to do (we actually have too much redundancy at this point) is unbelievable.
I  have received several inquires about mailing things to us, some gifts and some business stuff like those that join the MSB by mail. For now our shipping address in Arlington is the way to go.  I have still have yet to secure a PO Box in Arkansas, as of course we will not be making our physical address publicly known.  Rest assured we will have our mail forwarded when the time is right and you can simply ship items to our current shipping address until we change it on our order form.
I would once again like to thank the entire audience for your continued support of the show and our work.  While some time we may spar in the blog comments and disagree I have a true dedication to you all that I can't put into words.  All I can say is thank you to each of you and know those words will never be sufficient in truly conveying my feelings for all of you.