Flare Gas Mining with Blake Greiner of Musk Miners – Epi-3156
Podcast: Play in new window | Download (Duration: 1:34:17 — 21.6MB)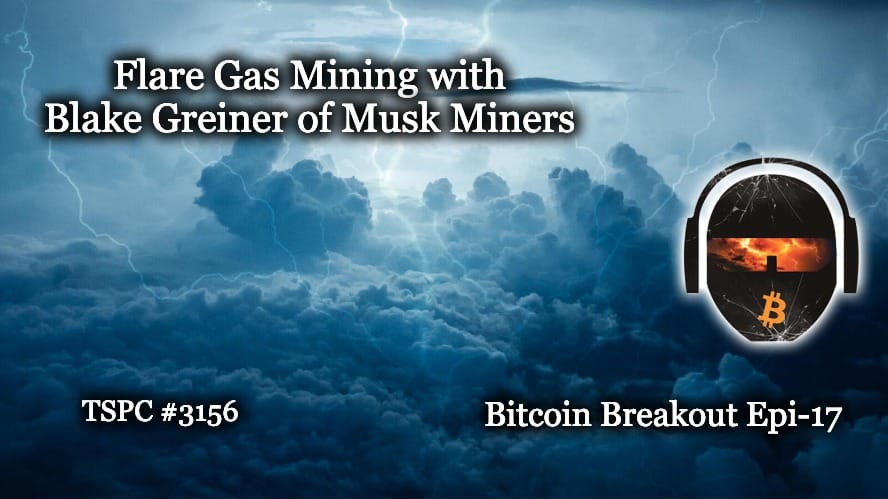 Blake Greiner is the founder of Muskminers who have bitcoin miners hosting sales and operations at Texas and Louisiana. They mine and host on wasted flare gas based energy. The flare gas is otherwise burned off without generating a usable asset. Essentially, muskminers take stranded energy and creates a usable asset known as bitcoin.
Right now there are massive amounts of wasted and stranded energy all over the world.  Not just oil well gas flares either.  For instance ever large landfill in the US is flaring waste gas.  Join us to learn how this energy can be harnessed and how bitcoin stabilizes the grid and enables profitable energy development.
Resources for today's show
Sponsor of the Day…
Start9.com – Take Back Your Digital Sovereignty
Butcher Box – Grass Fed Beef, Pastured Poultry & Pork to Your Front Door
Blake's Links
Video Version of this Podcast Episode
Remember to comment, chime in and tell us your thoughts, this podcast is one man's opinion, not a lecture or sermon.
Want Every Episode of TSP Ever Produced?
Remember in addition to discounts to over 40 vendors who supply stuff you are likely buying anyway, tons of free ebooks and video content, MSB Members also get every edition of The Survival Podcast ever produced in convenient zip files in blocks of 24. More info on the MSB can be found here.