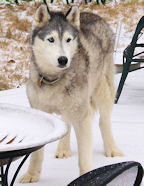 There will be no Survival Podcast today as I will be taking my old buddy Lakota to the vet in about an hour to be put down.  Lakota was a good buddy, we spent over a decade together and it is a sad day for me but I know it is time.  He stopped taking food and water last night and can barely stand.  He has had problems for about a year but seemed happy so we just took care of him.
We reached the end of the road last night, after a lifetime of caring for animals a man knows.  While a sad day I am at peace with it, over a decade ago we adopted him as a full grown adult Husky from The American Eskimo Dog rescue society.  He had been abused, his ears mutilated by an arrogant breeder who didn't think he measured up to a "standard" and was in need of a home.
In those years he escaped numerous times and ran for miles because it was in his blood.  He knew true freedom during our three years in Pennsylvania on his escapes in the farm fields and sleeping in beds he would dig in the snow, the way his breed was designed to do.  I will miss him but his life was better because we were able to care for him and ours was better because he was a part of it.
The show will return tomorrow,
Jack