Episode-713- Steward Rhodes on Opperation Sleeping Giant
Podcast: Play in new window | Download (31.5MB)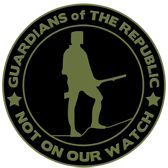 Today we are joined by Stewart Rhodes, founder of Oathkeepers.    Oath Keepers is a non-partisan association of currently serving military, reserves, National Guard, veterans, Peace Officers, and Fire Fighters who will fulfill the Oath they swore, with the support of like minded citizens who take an Oath to stand with us, to support and defend the Constitution against all enemies, foreign and domestic, so help us God.
The Oathkeeper  motto is "Not on our watch!"
If the American people, are forced to once again fight for their liberty in another American Revolution, they will not be alone.  The Oathkeepers will stand with you.
There is at this time a debate within the ranks of the military regarding their oath. Some mistakenly believe they must follow any order the President issues. But you can rest assured that many others in the military do understand that their loyalty is to the Constitution, and understand what that means.
Resources for Today's Show
Remember to comment, chime in and tell us your thoughts, this podcast is one man's opinion, not a lecture or sermon. Also please enter our listener appreciation contest and help spread the word about our show. Also remember you can call in your questions and comments to 866-65-THINK and you might hear yourself on the air.