AOCS First Strike Pics, Christmas Sale and TRTAM
I figured I would do one blog post on all three of these items to keep from flooding everyone's updates today.  First up as promised on today's episode I did recieve pictures of the first strike of the new AOCS TSP Copper rounds.
Currently we have sold over 6,000 of the first run of 10,000 coins.  Odds are they may sell out before we ship them in January so you may want to order yours now.  They can be ordered at the TSP Gear Shop Here.
First the Obverse (front)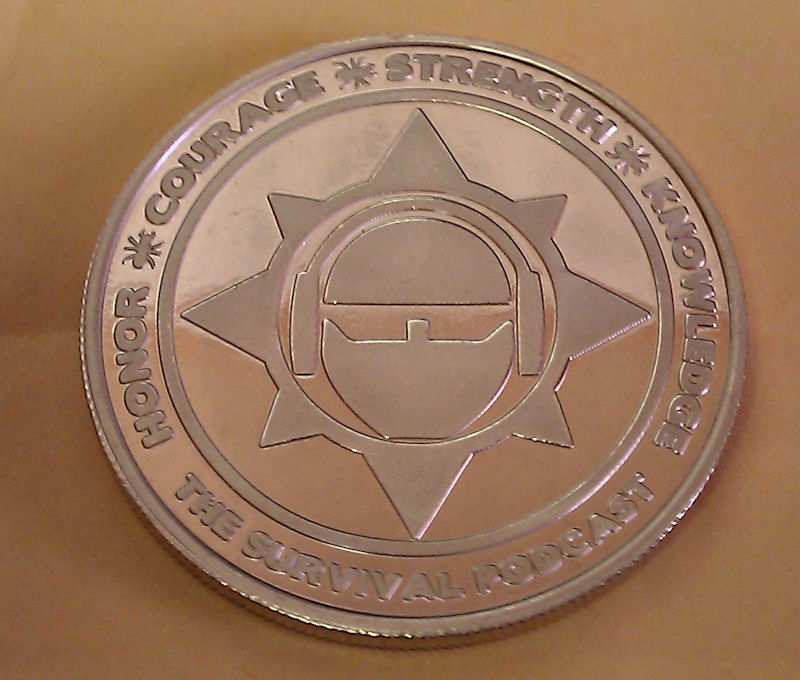 Second the Reverse (back)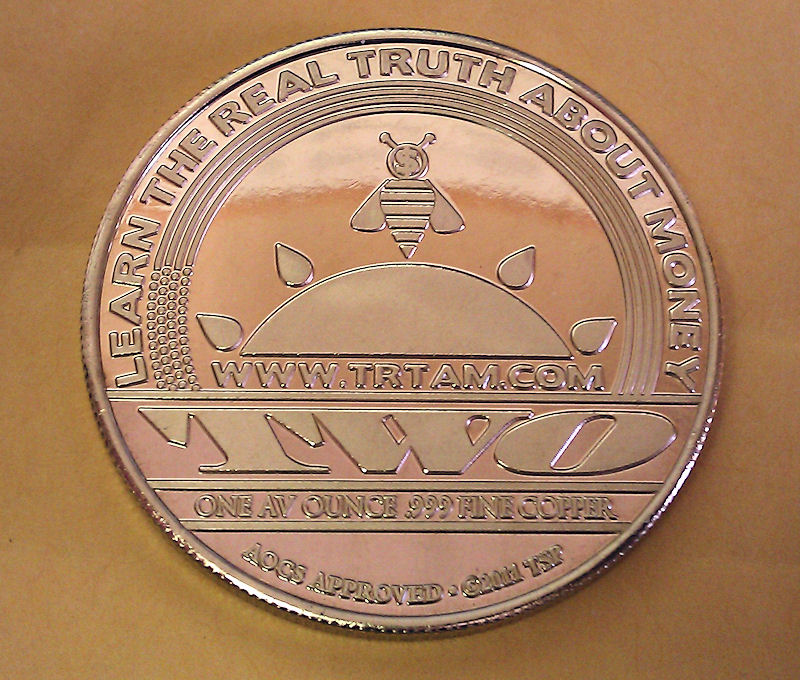 I really feel like the Mint and Rob's Folks at AOCS did an awesome job for us on this.  Also the design by Tiffany Rockwell is one of the most stunning examples of AOCS currency every created in my view.  Be sure to let Tiffany know what a great job she did when you get the opportunity.
I am honestly blown away by how quickly these are selling so again if you want some from the first run I would seriously consider pre ordering.
Again you can do that at the TSP Gear Shop
*****************************************
Next up remember the back of the coins display the URL of a new website we launched called The Real Truth About Money located at www.TRTAM.com.  Initially TRTAM.com was simply going to have the ocassional blog post about our economic system and have a simple PDF download of about 10 pages detailing the truth about our economic system.
Well over the last month I went into complete over drive and the 10 page PDF is now a full fledged book of  about 80 pages.  This book will be available in a few days at TRTAM.com as a free electronic download, with in a few weeks at most you will be able to order paperback versions via Lulu.com at about 2 dollars over our cost per book, this should be around 10 – 11 dollars a copy or less.  My hope is that TRTAM.com along with the soft and hard copies of the book and the new AOCS rounds can be use to help awaken your friends and family to the true slavery in our current economic system.
The electronic version of the book will remain free to all.  Lulu.com uses a print on demand technology so I don't have to hold inventory of the books.  We are simply doing the print version to make them available to those who want hard copies for personal use and giving away to others.     I am sorry the hard copies won't be availble for Christmas but it just isn't in the cards at this point.  Hey writing a full book in 30 days was hard enough!
The book itself is completed in full, this week I am simply adding resources to the end for people to learn more on the subject of financial literacy and economic policy.  The beta version of the soft copy will be released before Christmas come heck or high water!  If you have websties, books, DVDs, Youtube Videos or anything to suggest for the resources section please let me know in the comments below.  If you have not subscribed to updates by email or by RSS at TRTAM.com you may want to get over there now and do so.
I am also seeking contributing writers to blog at TRTAM.com you can get more on that here.
*****************************************
Lastly, I just want to make sure that those of you who may be behind on listening know that this week all the way till midnight on Christmas (central time) I am running a sale on the Members Brigade.  For the next few days you get the first year for only 30 dollars using the discount code "christmas" (yes I know to capitalize Christmas but the codes work best with all lowercase).
For those that want to use the mail in form you can just write Christmas on the form and mail it in with your first years payment.  Also during this sale I will take one ounce of pure silver in any form for a year of MSB or $1.25 cents of face value in pre-64 90% silver US Coin.  So if you have been on the fence about MSB now be the time to join or get a membership as a gift for a loved one.